SBI! What is Site Build It?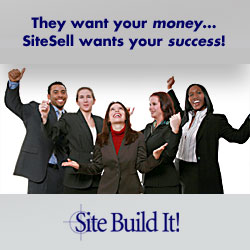 Site Build It is a service by Site Sell that helps people build successful, money-making businesses online.
When I stumbled upon Site Build It, I was skeptical. But some people I trust told me to take a closer look and I wanted to see what the hype was about, so I clicked around the site.
Why are SBI webmasters so in love with it? It's because their sites have a ton of traffic and more importantly, are them making money.
SBI Sites' Performance
Take a look at this SBI Results page. I know Alexa's not the best measure of traffic stats, but it's useful for web trends and getting a relative snapshot of how well sites are doing.
In a survey of 1,000 random SBI sites, 35% are in the top 1% of all sites tracked by Alexa, according to Netcraft. 53% are in the top 2%, and 62% scored in the top 3%.
Passion, Hobbies, and Quality Content
The people at Site Sell place a heavy emphasis on builiding content sites based on personal passions and hobbies. Most people on SBI try to build a site that provides actual value because they actually like their niches. So they never run out of content ideas and their passion invites others to link to them.
Make Your Content Sell
Check out the free ebook on content sites. Then take a look at the case studies. There's a very wide range of topics these sites are about, so you can see almost anyone can be successful with SBI's system.
Money Back Guarantee
There's a 30-day money back guarantee. They would issue a refund for any reason, so there's nothing to lose.
The Action Guide
I watched the Action Guide videos, then I read the text version.
Then I poked around the forums (so friendly and helpful), other tools (not just a site builder and page manager), and educational resources (no fluff, just useful tips and techniques). The internet marketing education alone was worth $299. There's a lot more to Site Build It than what's on the outside. This was an example of overdelivering value.
I still refer to the Action Guide every so often because it's so useful. I'm amazed they give it away for free.
The biggest obstacle to buying was I thought I already knew what I needed to know. I'm sure that's why a lot of webmasters decline to give SBI a try. There are several fake reviews of SBI, calling it a scam or rip-off, but I don't think they would write those if they actually tried it the SBI way.
Still Not Sure?
Well, if you're a pro that's still skeptical, all I can say is give it a shot. It's not really about the tools, it's about the system. I think you'll be surprised. Besides, you can always ask for your money back.
And if you're new to internet marketing and making money online, there's no better way to get started than with Site Build It. You'll learn a lot and avoid making mistakes that'll cost you money and time.
Tomaz Mencinger of Freedom Ideas is a successful webmaster who helped convince me to give SBI a try. He's written a detailed review of SBI here.
Here's Ken Evoy, founder of Site Sell, with a 2 1/2 minute video introduction to what his company's all about:
Click here for even more info on SBI